What is House-Call Grooming?
House call grooming is a form of mobile pet grooming as the groomer is mobile and they come to you. It is a luxury service that provides pet grooming performed by a professional groomer. The groomer brings their tools and equipment to your house to groom your dog in your home. Typically they bring everything needed to complete a professional-quality groom including a table. They just set up the table in a convenient spot and bathe your dog in a bathtub or sink. Some people are concerned by the mess of the fur in their home but in most cases, there is a minimal amount of mess. The fur is easily contained and will simply get vacuumed up.
What are the benefits to house-call grooming?
House call grooming provides a comfortable and low-stress environment for your dog during one of the most stressful things that they endure throughout their life. That is to say when you have your dog groomed in their own domain you are giving them the comfort and sense of being that everything is ok and that no one is leaving them behind. 
What is Fear Free Grooming?
Fear-free grooming is grooming done without causing any unnecessary anxiety and/or fear. This is achieved by using a variety of techniques designed to desensitize and retrain your dog by way of positive & reward-based reinforcement.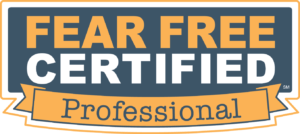 Check out our commercial to see us in action!
Luxury grooming in your home!
House-call dog grooming is an awesome alternative to the mobile grooming van. If you are someone who prefers to be present or even assist during your pups grooming then Kisses House-call dog grooming is the service for you. The dogs are so much more comfortable being in their own territory so grooming doesn't seem so unpleasant! My clients LOVE the fact that I groom their dog in their home and they are well aware of how their doggie is being handled. After this experience they wouldn't have it any other way! Schedule today to experience how dog grooming should be done!! 
We want your pets to love grooming time!
Grooming should be pleasant and fun for your pet. Something they look forward to and relish in the attention. So when you pair house call grooming with fear free grooming you have the winning combination! With positive training, gentle touch, and some patience, you can teach your pooch to love his spa day!