House-call dog grooming is an awesome alternative to the mobile grooming van. If you are someone who prefers to be present or even assist during your pups grooming then Kisses House-call dog grooming is the service for you. The dogs are so much more comfortable being in their own territory so grooming doesn't seem so unpleasant! My clients LOVE the fact that I groom their dog in their home and they are well aware of how their doggie is being handled. After this experience they wouldn't have it any other way! Schedule today to experience how dog grooming should be done!! Serving South Broward. Dogs under 30lbs. ​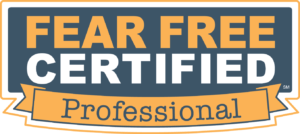 Fear-free grooming is grooming done without causing any unnecessary anxiety and/or fear. This is achieved by using a variety of techniques designed to desensitize and retrain your dog by way of positive & reward-based reinforcement.
Grooming should be pleasant and fun for your pet. Something they look forward to and relish in the attention. So when you pair house call grooming with fear free grooming you have the winning combination! With positive training, gentle touch, and some patience, you can teach your pooch to love his spa day!
Check out our commercial to see us in action!
I love Jessica's patience and affection. She is the best, and our new puppy, Bailey, loves her.
Prompt, professional, a genuine care for my dogs as if they were her own.
Awesome groomer, patient and treats my dog like family. She knows how my dog is and works around that.
Muffin loves Jess and squeals with delight when she hears her ring the bell. I recommend her (and have done so) to anyone with a dog. Jess comes on time and does a wonderful job always.
Jess is the best! Love that she comes to our home where our pups are comfortable to groom them. She is so gentle with them too. Just a great experience.
Since the first time Jessie has been amazing being so patience with my fur baby. I couldn't be with happier, and I know my fur baby is happy cause she always gets the super zoomies after, she is perfect!
Very gentle with Gigi. Always does a good job. We were very satisfied with your service.
Love Jessica… best groomer!! Warm, caring and gentle and gives a good cut!!!
Punctual, kind, calm, professional, stylish, happy puppy.
Jess we Love you! And your work is awesome always! Jess is doing everything indoor and we can be there, our Dogs feel better and calm
You are always so calm and careful with the animals. YOU help the animals to relax.
I recommend Kisses House Call Grooming all the time. People have different comfort levels, though. I love having Leo groomed at home so I can keep my eyes on him—he's a difficult boi at best! Jessica is super sweet, kind and loving to the pups! I love how she "sweet talks" Leo to keep him calm and agreeable!!!!
Jessica is awesome! My dog Charlie loves her and she really takes her time, true professional. Friendly service and always on time, Jessica takes pride in her work and it shows.
Henry loves Jess, she gentle with him and he enjoys his grooming.
I love the way she has treated my babies with a lot of patience - she truly cares
It took me 6 yrs when I moved to Florida from New York to find that special groomer for our Chloe. You are it. You are truly special. You always listen to our concerns with Chloe.
We're very happy with your service! Friendly, professional, and patient with our fussy dog.